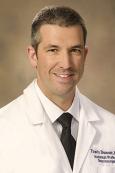 The University of Arizona Department of Neurosurgery, offers a seven-year, fully integrated program of training and research in clinical neurosurgery that covers the full spectrum of neurosurgical disease. Residency training is conducted at two institutions in Tucson and supervised by 9 neurosurgical faculty members. We mentor our residents to maintain a balanced professional and personal life, emphasizing development of individual strengths and interests in clinical neurosurgery and research throughout residency training.
Our resident team is made up of one resident in each year of training.  We accept one new resident onto the team every year. We perform more than 3,500 neurosurgical operative procedures yearly among the two training institutions. This allows our program to offer excellent hands-on training with a favorable case-to-resident ratio.  Our faculty are board-certified and fellowship-trained in all of the major neurosurgical subspecialties.
Active research is encouraged during all years of training and is supplemented with a year dedicated to research efforts. Our ongoing research activities include recruitment in clinical trials (epilepsy, spinal cord injury, large vessel occlusion stroke), enrollment of clinical registries (cerebral aneurysms, stroke), clinical research (neuro-oncology, pain, socioeconomics), and translational research (neurosurgical genomics, patents, and device development). We support resident research efforts with full funding to attend national and subspecialty meetings.
In addition to a full didactic schedule, our residents participate in Society of Neurological Surgeons-sponsored educational meetings, including the Intern Bootcamp, Junior Resident Bootcamp, Research Update in Neurosciences for Neurosurgeons course, and board preparatory courses.
The program participates in the National Residency Matching Program (NRMP) and the Electronic Resident Application Service (ERAS). If you are interested in our residency program and would like more information, we welcome you to contact our program administrator.
Travis Dumont, MD
Program Director, Neurological Surgery Residency
Program Director, Neurovascular Surgery Program
Professor, Neurosurgery
Associate Professor, Medical Imaging